Video Magnifiers
The Mattingly Wired Mouse CCTV
Order#:VM (Wired)
The Mattingly Wired Mouse CCTV is a powerful, portable, hand-held digital reading aid designed for people with low vision. The size of a computer mouse, it connects directly to any TV/monitor with video input in seconds, allowing you to read newspapers, magazines, recipe, cards and even medicine labels easily.
Features
Compatible with any TV/Monitor with a RGB Video Input
Three (3) Viewing Modes:
Full Color
High-Contrast Positive (Black on White)
High-Contrast Negative (White on Black)
Seven (7) Levels of Digital Magnification:
17.5x to 70x Digital Zoom on a 20" TV/Monitor
Larger TV/Monitor will Increase Level of Magnification
Other Features:
Ability to Freeze and De-Freeze current image
Unique Gliding Wheel Mechanism
Light Weight
Convenient & Ergonomic (feels like a computer mouse)
Easy to Use - Plug and Play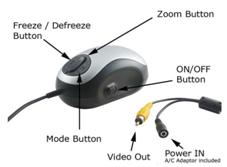 The Mattingly SMART Portable Video Magnifier
Order #: VPVM
The Least Expensive, Most Feature Rich Video Magnifier On The Market Today!
Features:
Easy to use, lightweight, long-lasting rechargeable battery, 2 year warranty
8 magnification levels from 2x to 15x
4 viewing Modes – full color, black and white, high-contrast white on black and high-contrast black on white
Freeze-frame option
4-step brightness and 4-step contrast adjustments
Unique, removable stand for steady focusing, which folds up under the magnifier for easy portability
Video Magnifier Accessories Included:
Wall power transformer and USB charging cord
Black velvet magnifier bag
Removable stand
Removable wrist carrying band
Cleaning Cloth
Technical Specifications:
3.5" TFT LCD display screen
Display resolution – QVGA (320x240)
Lightweight (4 oz.)
Outside dimensions: L: 4.25", H: 2.90", W: .5"
Rechargeable lithium ion battery – 3 hours +
4 brightness levels, 4 contrast levels
8 levels of magnification – 2x – 15x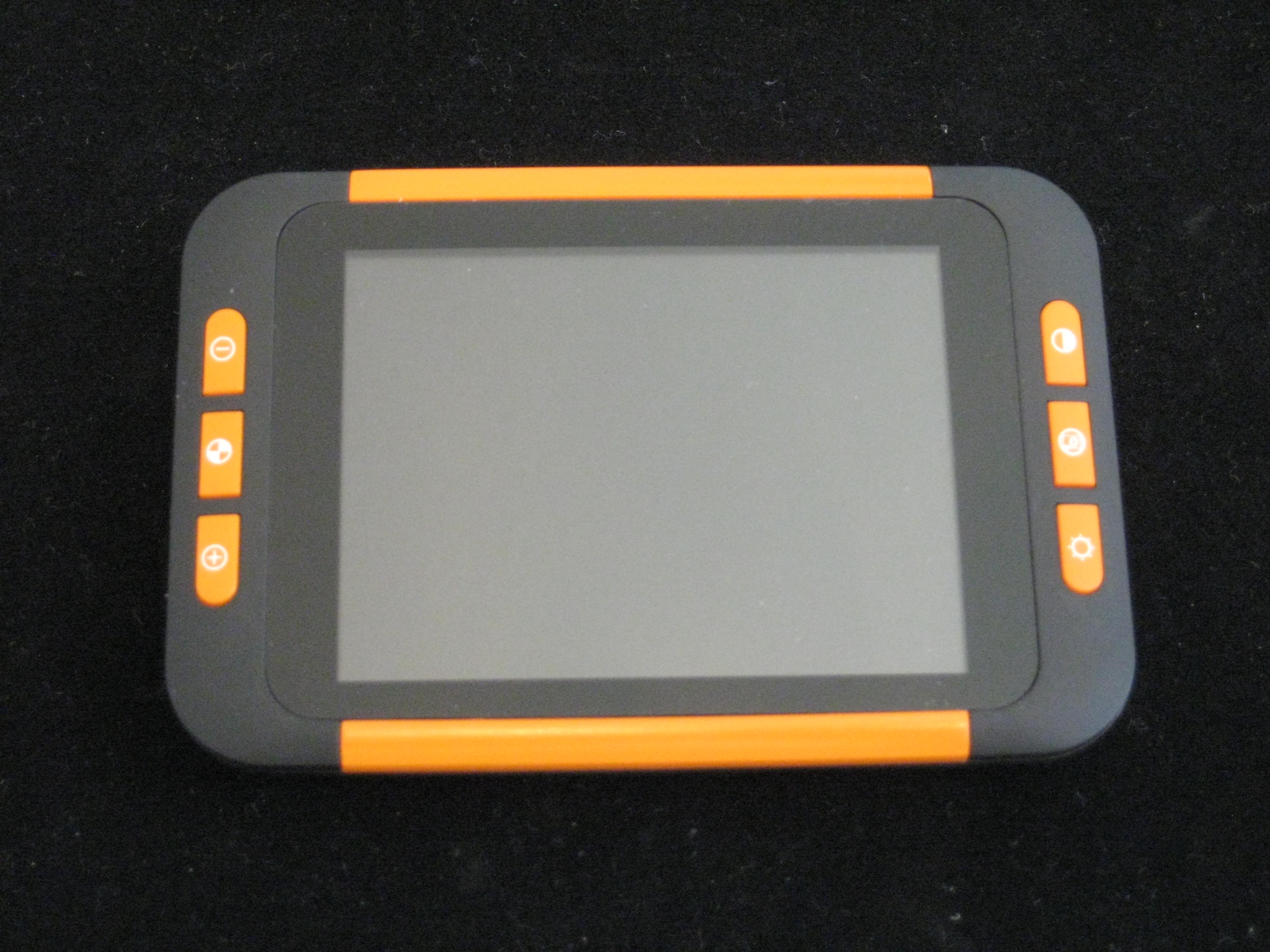 Candy 5 HD II Video Magnifier
Order#:VCANDY5HDII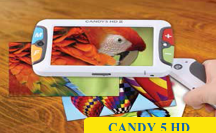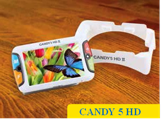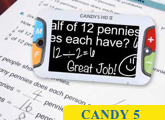 Candy 5 HD II Specifications:
5" wide LCD video screen with an HD, auto-focus camera
Hand-held or stand capable – has a folding handle, a kick stand and a reading stand
Near AND far viewing modes. A unique feature!
Continuous magnification, and large, simple buttons
Advanced Features:
Magnification from 1x – 22x and 5 color contrast modes
2 cameras – 1 front and 1 rear. Front camera can be used for personal grooming purposes
Data storage of 5 picture images
2 year manufacturer warranty
Clover 3" Hand-Held Video Magnifier
Order#:VCLOVER35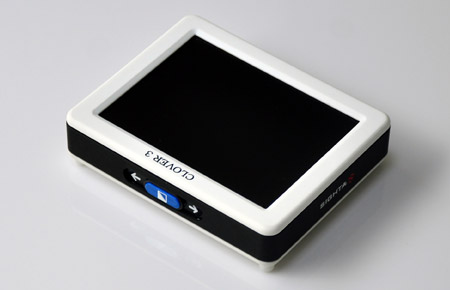 Clover 3" Specifications:
Sits flat on a table, and easily in a pocket
Simple 3 in 1 button (Zoom & Mode)
Quick return to True Color
Patented Eye-Protection Lighting System
3.5" Screen
Magnification from 3.8x – 16x
Clover 5" Hand-Held Video Magnifier
Order#:VClover5 (Additional Handle Order# VClover5Handle)
Clover 5" Specifications:
See more on the 5-inch widescreen LCD
Magnification range from 4x – 20x OR 3x –30x
Lightweight and portable design at 7oz with battery
Fantastic depth of focus to write under
Rechargeable battery that gives 4 hours of use
Integrated reading stand and optional handle (when folded under, handle allows for 25% greater field of view)
Can be connected to a TV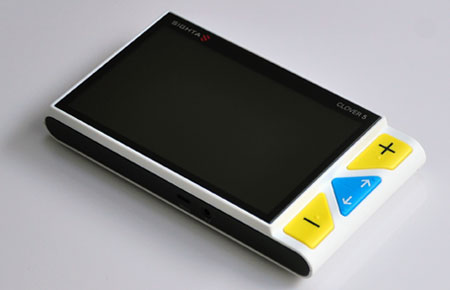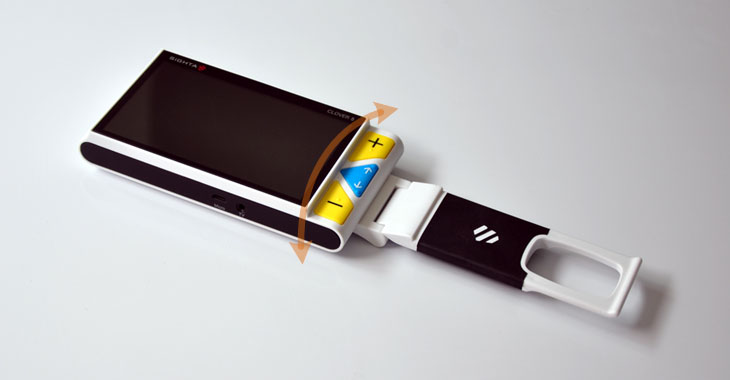 Clover 7" HD Portable Video Magnifier
Order#:VClover7
Clover 7" HD Specifications:
Simple and stable to use with tactile operational buttons located on the housing (not on the side of the screen)
Near and far view capability
Magnification from 2.2x – 16x
18 color contrast modes>
Lightweight and portable (15.9oz with battery)
Fast refresh rate and virtually no image ghosting
Reading lines and masks can be turned on or off as desired
Can be connected to a TV
Clover 10" HD Portable Video Magnifier
Order#:VClover10
Clover 10" HD Specifications:
Dual Full HD camera and IPS screen
Near-view, Far-view and Mirror-view
Button panel and Joystick - easy to use with one hand!
Magnification from 2.2x – 16x
Simplified 6 color mode; Integrated 19 mode
Lightweight and thinner (23.9oz with battery)
Reading lines, masks and brightness can be adjusted as desired
Can be connected to a TV
Features:
2X - 16X magnification, with smooth magnification adjustment feature
4.3"color TFT screen
10 color viewing modes:full color, grey, black on white, white on black, blue on white, white on blue,black on yellow,yellow on black, blue and yellow, and yellow on blue
Freeze frame function
Has "kick stand" writing stand that folds up into the unit
Can be connected and used with a TV with included video cord
Weighs only 7.2 ounces (including battery)
Rechargeable battery with life of 3.5 hours of continuous use
Includes 2 batteries that can be replaced by the user if needed
Intelligent design -the Snow memorizes and uses the most recent settings (viewing mode, magnification, TV format, key tones etc.) at start up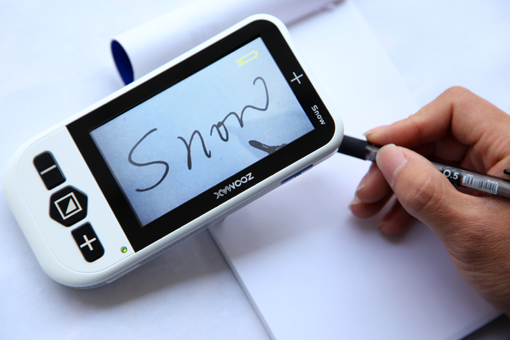 M5HD Plus
Order#:VM5HDPlus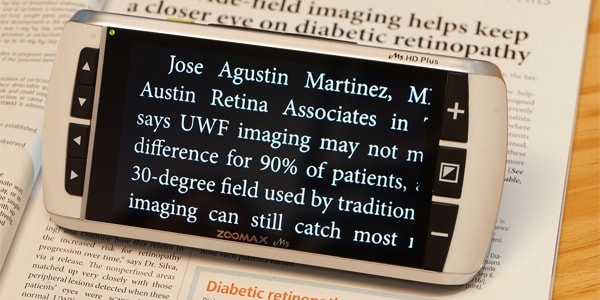 M5HD Plus Specifications:
Magnification from 2.3x – 16x
5" HD touch screen
Holds up to 60 pictures
Reading lines and masks
Optional handle
The SNOW 7" HD Plus Video Magnifier With and Without Speech
Order #: VSNOW7HDPlus, additional item Order #VSNOW7HDPlusS
Features:
2.2X - 16X magnification, with continuous magnification adjustment feature
7"color TFT screen
Near AND far viewing modes - a unique feature!
12 color viewing modes:full color, grey, black on white, white on black, blue on white, white on blue,black on yellow,yellow on black, blue and yellow, yellow on blue, green on black and black on green
Freeze frame function
Large, simple buttons make it very easy to use
Has a stand that folds up into the unit, that hold the unit up high enough to work under comfortably
Can be connected and used with a TV with included video cord
Truly portable! Weighs only 16.93 ounces (including battery)
Rechargeable battery with life of 5 hours of continuous use
Intelligent design -the Snow memorizes and uses the most recent settings (viewing mode, magnification, TV format, key tones etc.) at start up
Available with and without OCR speech function
2 year manufacturer warranty
Snow HD 10" Plus
Order#:SNOW10HDPlus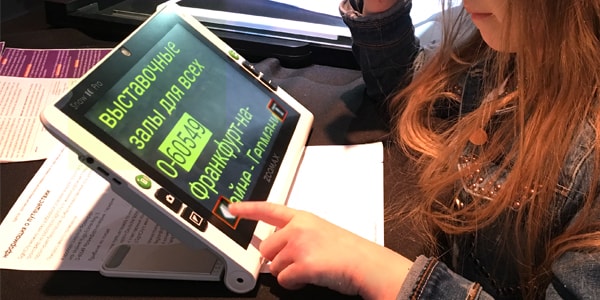 SNOW 10" HD Plus Specifications:
Magnification from 2x – 19x
10" HD touch screen
13 mega pixel camera
Near and far viewing modes
OCR speech function
Reading lines and masks