VisionEdge™ Illuminator - a Unique Lighting Solution
VE-2500 Product Information Page

The new generation VE-2500 replaced the VE-100 line. The new version provides a small powerbank instead of the old bulky controller.
The Vision Edge lighting system is a clip on, personal, portable light with patented optics that minimize glare and weighs only 0.4 oz. The units are available with either white or green lights, and the diagnostic kit contains both so that patients/clients can determine which light color works best for them.
The VisionEdge has been used extensively in research and clinical trials. A large study by Dr. D. Fletcher (et al.), of 152 low vision patients, 89% with macular degeneration, showed an average 2 block increase in reading performance using the VisionEdge with high illumination. VA studies by Dr. G. Goodrich further indicate that use of colored LEDs, as uniquely available with the VisionEdge, may provide increased comfort.
VisionEdge Diagnostic Kit (VE-2500DK)
Two high-brightness, 12-LED VisionEdge illuminators (1 white, 1 green)
AC adaptor, rechargeable power bank or USB port; user manual and travel case
VisionEdge Single White Illuminator (VE-2500W)
Vision Edge Single Green Illuminator (VE-2500G)
VisionEdge features:
· Slips-on glasses or visors
· Effective for near lenses from +2 to +6 diopters, tilts to align with text
· Provides up to 2500 lux at 16 inches (an office environment has 300-700 lux)
· Built-in patented optics provide typoscopic horizontal spread of light (reduces glare)
· Built-in stabilization circuit ensures constant light output throughout the charge of battery
· Portable and useful in real world (reading, writing, sewing, playing cards,etc.)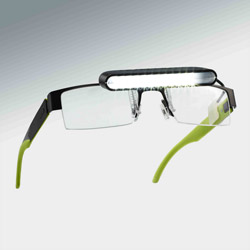 VisionEdge Demonstration Video