Mattingly SMARTMag® LED Stand Magnifiers
We think you will agree with us that the SMARTMag® stand magnifiers are the best LED stand magnifiers available.
Some of the features of the SMARTMag® stand LED magnifiers are:
The brightest white LEDs (when compared to European manufacturers of LED magnifiers*) are used in the SMARTMag® LED stand magnifiers. Your patients will enjoy the enhanced contrast.
The SMARTMag® stand LEDs are designed to give a broad, even field of light that have no purplish or blue "bright spots".
An optional yellow, teal, or 5mm white LED is available, and may be the answer for patients that find the standard 8mm "High Contrast White" LEDs too bright.
Expanded power range for best selection for patients. The stands are available in 10 powers, from 3X through 14X. The magnifiers are labeled with both "X" and "D" ratings.
LEDs give long battery life. Uses three "AA" batteries.
Cases are included with all LED stand magnifiers. Heavy duty boxes protect the magnifiers.
Durable reinforced contrast-blue switches on all powers. White mounting and handle.
Limited Lifetime Warranty.
LEDs warranted to never burn out.
Large print picture instructions and warranty included in all magnifier boxes.

Battery compartments have high contrast battery directional images.
Recommended viewing distances for best optics supplied.
Sold only through professionals, never directly to a consumer.
Low Prices.



*Brightness tested in foot-candles with an Exectech #EA39 Light Meter at 2.25"
Our Magnifiers are the brightest on the market
Don't forget our private Label Service!
3X
MS3SLED
3X (8D) Small Stand Illuminated Magnifier
Mattingly White 8mm "High Contrast White" Multi-Chip LED
5mm White, Yellow, and Teal LEDs available
100X50mm Aspheric Lens
3X
MS3LLED
3X (8D) Large Stand Illuminated Magnifier
Mattingly White 8mm "High Contrast White" Multi-Chip LED
5mm White, Yellow, and Teal LEDs available
100X75mm Aspheric Lens
5X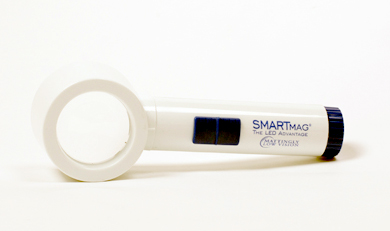 MS5LED
5X (16D) Stand Illuminated Magnifier
Mattingly White 8mm "High Contrast White" Multi-Chip LED
5mm White, Yellow, and Teal LEDs available
55mm Aspheric Lens
6X
MS6LED
6X (20D) Stand Illuminated Magnifier
Mattingly White 8mm "High Contrast White" Multi-Chip LED
5mm White, Yellow, and Teal LEDs available
50mm Aspheric Lens
8X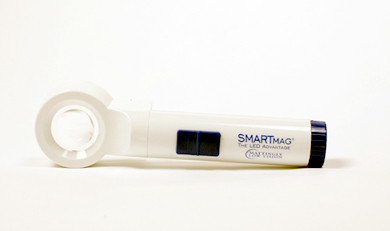 MS8LED
8X (28D) Stand Illuminated Magnifier
Mattingly White 8mm "High Contrast White" Multi-Chip LED
5mm White, Yellow, and Teal LEDs available
35mm Aspheric Lens
10X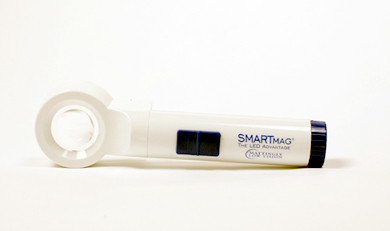 MS10LED
10X (36D) Stand Illuminated Magnifier
Mattingly White 8mm "High Contrast White" Multi-Chip LED
5mm White, Yellow, and Teal LEDs available
35mm Aspheric Lens